Vendor
Link
Features
Diamond
Search
Page
✅ Positive Reviews
✅ Super ideal diamonds
✅ 360° images
✅ GIA and AGS Accredited Staff
Diamond
Search
Page
✅ Positive Reviews
✅ 24/7 chat
✅ 360° images
✅ Fantastic Website
Diamond
Search
Page
✅ Positive Reviews
✅ 24/7 chat
✅ 360° images
✅ Gemologists on staff
Diamond
Search
Page
✅ Positive Reviews
✅ 12/7 chat
✅ Responsibly sourced diamonds
✅ Gemologists on staff
✅ 360° images
Diamond
Search
Page
✅ Positive Reviews
✅ Price Transparency
✅ Ring Recommender
✅ Gemologists on staff
✅ 360° images
Diamond
Search
Page
✅ Focus on Environment and Sustainability
✅ Origin Selection Available
✅ Natural, recycled, and lab diamonds
✅ Gorgeous ring designs
Diamond
Search
Page
✅ High quality hand crafted settings
✅ Super ideal diamonds
✅ 360° images
✅ Highly rated customer service
Diamond
Search
Page
✅ Positive reviews
✅ Each setting custom made
✅ Speedy service
✅ Competitive Pricing
Diamond
Search
Page
✅ Super ideal diamonds
✅ In-house diamonds
✅ 360° images
✅ Signature Advance Preorder Selection
Diamond
Search
Page
✅ Home viewing program
✅ Unique engagement ring designs
✅ Natural and lab diamonds
✅ Highly rated customer service
Diamond
Search
Page
✅ Speedy service
✅ Free Home Replica Preview
✅ Gemologists on call
✅ Free Resizing
Listed here are just some of the many each great attributes these diamond jewelers offer. Read on to find out more. The links are affiliate links. See here for an explanation on how this works and why it's better than a random list of unproven merchants.
If you are trying to find the right place to buy a diamond online I have compiled this list of online outlets for you to check out. To determine which one is the absolute best, I would have to know what your specific requirements are. Every business will have areas of expertise. Just as with buying a car, some dealers stock high performance products but whether you choose to bring your custom to them depends on your own preferences. If you choose to shop somewhere that stocks a variety of qualities then you will have more homework to do to make sure you come away satisfied that you got the quality you wanted.
Buying a diamond is a special event. Many people only do so once in their lives. Diamonds and gold are both precious but buying a diamond can't be compared to buying a gold bar. When you buy a gold bar you know exactly what you are getting without having to do much study. When you're buying a diamond there's a bit of a learning curve.
For this reason I highly recommend taking time to understand diamond terminology before jumping in and buying the first diamond that looks cheap for its weight. I set up another website which focuses on diamond buying advice to help anyone, beginner or not, with their diamond search.
---

Description: Ideal diamonds and fine jewelry. Independent brand.
Whiteflash is all about the Ideal Cut Diamond. There is no larger inventory of AGS ideal diamonds anywhere in the world! Whether you are looking for an ideal round diamond or an ideal princess diamond Whiteflash pride themselves in having the best selection of AGS certified ideal diamonds that can be found anywhere. Combining the finest in certified diamonds with top quality designer engagement rings and fine jewelry, Whiteflash can confidently say that they deliver "A Brilliant Diamond Buying Experience"® to discerning customers worldwide.
As authorized resellers for the finest designer brands such as Tacori, Verragio, Simon G, Ritani, Danhov, Vatche, and Benchmark, and as the exclusive provider of their very own A CUT ABOVE® Super Ideal Diamonds, there is no better place to create a truly extraordinary piece for your special occasion than at Whiteflash. Shop online or visit their Houston Jewelry Store to experience the Whiteflash difference for yourself.
Discerning diamond shoppers buy their diamonds from Whiteflash. One thing you don't need to worry about is ending up with a dud diamond. They simply don't stock them.
Something Whiteflash offers which is not immediately obvious on their website is the option to get Custom Cut A CUT ABOVE® Diamonds. If you are looking for a specific size, color, clarity, you can get in touch with them and ask for one to be made just for you. Just use this link: https://www.whiteflash.com/loose-diamonds/request-diamond/
Whiteflash offers so much more than I could possibly cover in one paragraph. For this reason I wrote a much lengthier article here: Whiteflash Review.
Features
Members of the American Gem Society
Super Ideal cut diamonds.
Customer Loyalty program
Free shipping worldwide.
ISO 9000 Total Quality Management
ASET imaging
AGS & GIA certified diamonds.
Developer and sole distributor of A CUT ABOVE® super ideal diamonds.
Light performance and laboratory reports for each in-house diamond.
1 Year Service Plan on all jewelry products.
Outstanding customer care.
Authorized distributors for the finest bridal brands in America.
GIA trained staff, both Diamond Graduates and Graduate Gemologists.
100% Lifetime trade-up benefits on in-house diamonds.
Custom Cut A CUT ABOVE® Diamonds
---
Description: Online diamond & gem jewelry retailer. Brand owned by Signet Jewelers. Run as an independent entity.
One of the busiest online diamond vendors today is James Allen. Founded in 2006 by a team of four this online retailer has become a major player in the diamond universe. James Allen's meticulous attention to detail coupled with a high priority on customer experience and service is why, at the time of writing, more than 150,000 happy couples are now owners of James Allen diamond rings. While James Allen has set the pace for the way diamonds should be sold online there are few competitors that can replicate James Allen's success. This is no doubt due to the fact that the founders' focus from the beginning was on customer experience. Read more about the amazing people who started James Allen and what you should know when shopping there in my James Allen Review. What immediately hooks visitors to the site is the user interface, which is highly intuitive and super easy to use. Refining your search couldn't be easier. You can have the site show you the carat weight, diamond color, shape, and even cut quality for many shapes. You can then sort the results by price, carat, color, or cut grade. And help is never far away as there are explanations for everything on the page. Having access to this many diamonds is dizzying but the tools for refining your search make it possible to narrow it down to the perfect stone to suit just about any budget.
Features
A selection of 500,000+ diamonds.
A choice of hundreds of customizable ring styles.
Efficient and speedy diamond setting.
Free shipping worldwide.
TrueHearts™ ideal diamonds.
GIA, AGS, and IGI certified diamonds.
Lab-created diamonds available.
Real-time diamond inspection service. Their experts share their screen with you.
A solid 100% money-back guarantee.
Hassle-free returns.
Lifetime warranty.
24/7 Live customer support
---

Description: Online diamond jewelry retailer. Owned by Bain Capital Private Equity, Bow Street & Adama Partners.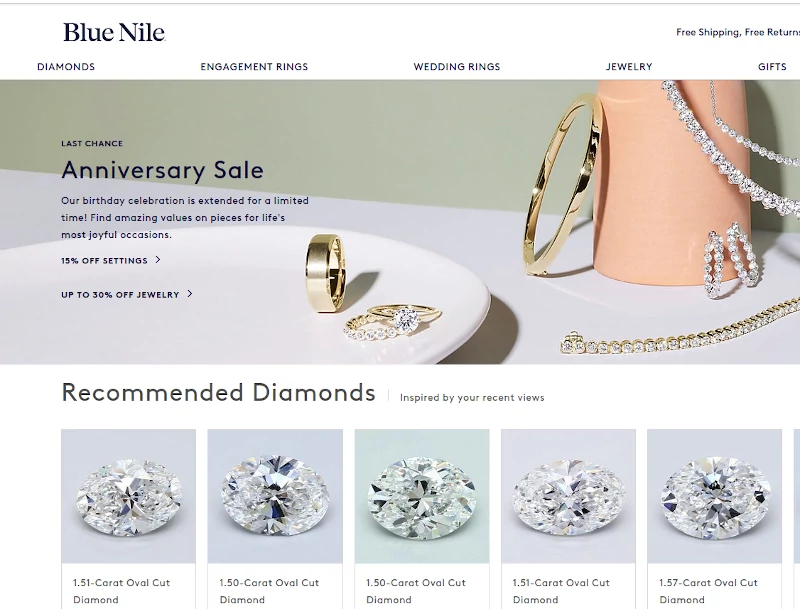 Blue Nile, Inc. is one of the companies that has truly transformed the way we shop for diamonds. What many people love is not only the great selection of diamonds, but the many ring settings there are to choose from. Since its founding in 1999 Blue Nile has become a leader as an online diamond and gemstone jewelry retailer. The company was one of the first to offer interactive engagement rings shopping. From the onset they made sure their interface was intuitive and easy to navigate. They also have a fantastic selection of wedding rings and fine jewelry. Part of Blue Nile's success can no doubt be attributed to how they've provided essential educational content which is an essential part of shopping for diamonds especially if it's someone's first time buyers. The online tools they provide place you in control of the jewelry shopping process.
Blue Nile continues to innovate and improve the customer experience. As such, Blue Nile has some of the highest quality standards in the industry. They are one of the only platforms that offers such a large range of independently graded diamonds and fine jewelry.
Please check out my longer article on Blue Nile here: Blue Nile Review.
Features
Free shipping worldwide.
GIA certified diamonds.
24/7 customer service.
Quality handcrafted rings
150,000+ diamonds
Customization available
Diamond Upgrade Program
All inclusive pricing
Astor by Blue Nile™ diamonds
Description: Jeweler specializing in AGS Super Ideal cut diamonds and fine jewelry. Trademarked brand of Alpha Creations, Inc.
This is a diamond jeweler that can truly be worthy of the title of fine jeweler. While "ideal cut diamonds" and "super ideal cut diamonds" are touted by a number of jewelers Brian Gavin's diamonds are in a class of their own. Brian Gavin as a fifth generation diamond cutter brings to the table the tradition and experience that can't be gotten any other way. He is therefore able to create diamonds that deliver an incredible volume of light return. Brian Gavin Diamonds have that sparkle factor that has a level of visual performance which is second to none! Brian Gavin has been a major influence in developing and promoting the "Hearts and arrows diamond grading standards" that are used by the upper echelon of the diamond industry. The stones sold by Brian Gavin Diamonds take much longer to polish and produce than your average "Excellent cut" diamond. All the Brian Gavin diamonds are AGS graded. Each in house diamond is displayed in 360° and is shown in various ways including how it shows up under an ASET.
Features of distinction
AGS graded super ideal diamonds
Super Ideal Hearts & Arrows diamonds
Hearts and Arrows cushion cut diamonds
Signature emerald cut diamonds that have extra sparkle
Super ideal cape diamonds
Exquisite range of designer rings
Black® by Brian Gavin – born from a passion for perfection
Custom engagement rings
Custom jewelry
Custom cut diamonds
---
Description: Fine jewelry company specializing in engagement rings and bridal jewelry.
Ritani was founded in 1999 by a family of jewelers. They began as a wholesale jewelry brand. Ritani then launched its e-commerce website in October 2012. Their aim was to make it simpler to purchase high quality, handcrafted jewelry. Ritani's pieces are one-of-a-kind and made to order in New York by expert artisans. Ritani knows diamonds. Their extensive knowledge of jewelry can easily be tapped in to by chat, phone or email so you can find the right engagement ring, wedding band, or whatever piece you're looking for.
Ritani's unique selling proposition was to partner with jewelry stores in 180 locations across the US and Canada. They can arrange for customers to view a Ritani diamond in-store. Ritani is the first to provide complete pricing transparency by showing you the profit margins on their diamonds.
Features
30 day returns
Diamond price matching
Pricing transparency
Lab created diamonds available
Free insured shipping
Free in-store preview
Custom engagement rings
Military discount
Diamond buyback program
Gemologists on staff
---
Description: Precision Cut Signature Diamonds and Bespoke Hand Forged Rings.
The clientele that choose Victor Canera want not only the best diamonds, but also consider that a quality hand forged setting is the only way to present a beautiful diamond. Victor Canera is for discerning diamond and jewelry aficionados that appreciate high quality craftsmanship.
Since launching in the year 2000 Victor Canera has offered what can only be deemed to be among the finest custom jewelry and high end diamonds available anywhere. Victor himself is a third generation jeweler. He began managing his family's jewelry business after college. Having completed his studies with the Gemological Institute of America in 1996 Victor followed his family's footsteps. He began to focus on precision cut diamonds. Before launching his brand Victor Canera had felt saddened whenever he would see unique gems set in mountings whose quality seemed dubious at best. He felt that such diamonds had to be set in bespoke jewelry worthy to hold magnificent diamonds.
Seeing that diamonds are one of a kind, with unique characteristics, he appreciated how these unique traits give each one a different personality. As such each diamond deserved better than the generic settings which were all too common. He decided he would form a company that would create settings to match the high performance diamonds he so loved. Gems and jewelry truly worthy of each other: high end diamonds with high end settings fit for royalty. Each diamond would be set in a one of a kind, hand forged piece. The settings he would sell would not be mass produced but created solely for the unique diamond it would hold. Much of the influence seen in Victor Canera's work comes from the jewelry created by great craftsmen of the early 20th century. If you want quality settings and quality diamonds then look no further than Victor Canera.
Features
Custom rings and jewelry
High performance diamonds
Diamond buyback program
Free insured shipping
30 day returns on in house and in stock diamonds and jewelry
Canera Antique Cushion diamonds
High-res 360°, ASET, and ImageScope images
Custom cut diamonds
GIA Diamonds Graduates on staff
AGS & GIA graded diamonds
---
How To Choose
If you want to buy a diamond DON'T just click on the first diamond that looks cheap for its size. DO choose quality. What does this mean? Well diamonds come in all sorts of levels of quality. An ideal diamond looks magical with an amazing play of light and flashes of color. If there's no sparkle then what's the point?
There are three ways to go about finding the best diamond to suit your needs:
Choose from a jeweler that stocks ONLY high quality stones
Get a diamond specialist to help you with your selection such as the service I offer at www.diamondbuyingadvice.com/concierge-service/
Do your own research and try to make an educated guess as to which diamond will suit your requirements. For this check out another one of my sites www.diamondbuyingadvice.net