Online Jewelers Where You Can Choose Your Own Diamonds
Vendor
Where To Start:
➡ Design Your Own Studs

✅ Style: Studs
✅ Shapes: Round, Princess, Heart,
Emerald, Pear, Asscher, Oval.
✅ Natural and Lab Created
➡ Build Your Own Earrings®
✅ Style: Studs, Drop, Halo
✅ Shapes: Round, Princess, Asscher
✅ Natural
➡ Diamond Earrings & Studs
✅ Style: Studs, Drop, Halo
✅ Shape: Round, Princess
✅ Natural


➡ Diamond Studs & Earrings
✅ Style: Studs, Drop, Halo
✅ Shapes: Round, Cushion, Emerald, Princess
✅ Natural
*These are the parameters I have used when making these Custom Collection Links.
You can adjust the parameters once you land on each merchant's site.
Choosing Quality Diamonds for Studs Earrings at James Allen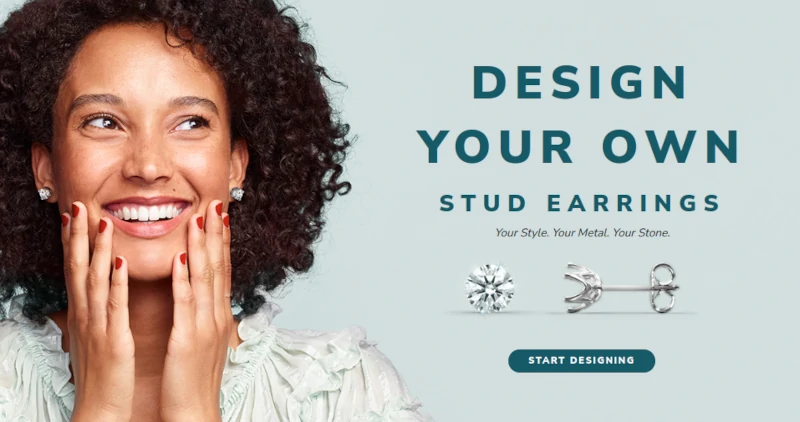 There are several pathways you are offered when choosing diamond earrings at James Allen.
To pick your own diamonds use link 2 or 3. Link 1 is also worth checking out as there are additional designs available there.
As this article is focusing on how to choose quality diamond studs I'm going to show you where to find the best diamonds at each vendor I list above.
For James Allen it's this custom collection of James Allen's True Hearts premium diamonds. I say custom because this link includes additional parameters so you are shown more than the default ones.
If you are toying with the idea that you can find something equally good in their general inventory then what I would recommend is familiarizing yourself with James Allen's True Hearts diamonds and then see if you can find something that looks similar in the general inventory. This applies to round, cushion and princess cut diamonds. Pay special attention to depth, crown and pavilion angles, table percentage, optical precision, and symmetry.
Choosing Quality Diamonds for Studs Earrings at Blue Nile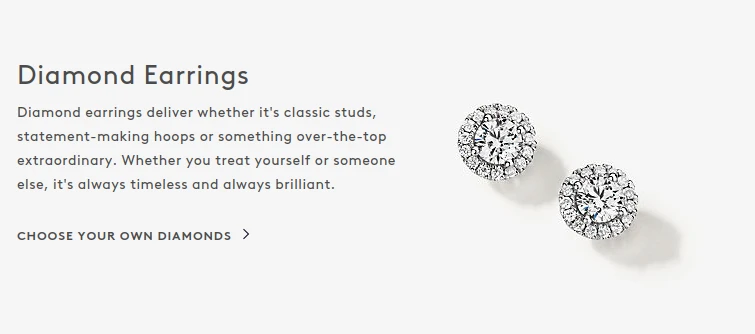 Blue Nile has a collection of signature diamonds cut called Astor by Blue Nile which are a great choice if you are after high quality diamonds studs. Go straight to matched pairs of Astor by Blue Nile diamonds at Blue Nile. These diamonds come with a GIA grading report as well as a special Diamond Light Performance Certificate from GemEx so you are assured the diamonds have been examined and certified for their high, to very high level of brilliance, fire and sparkle.
How To Choose Diamond Earrings and Studs at Whiteflash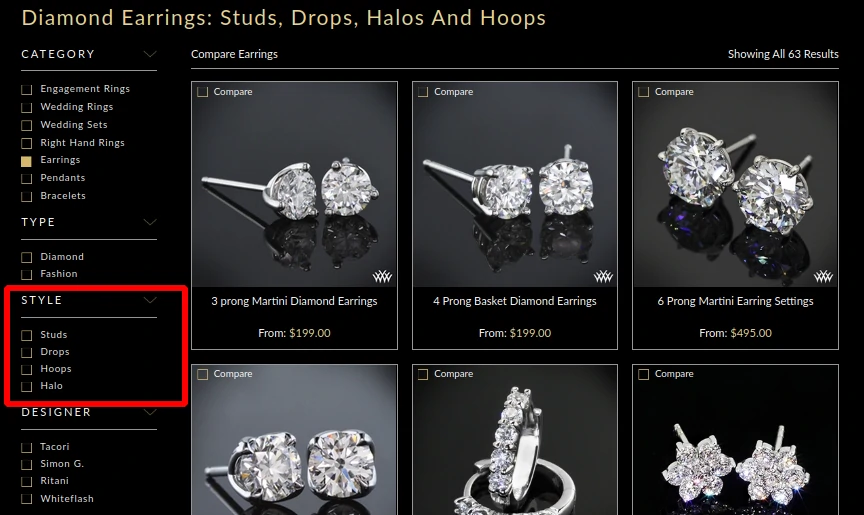 You can either start with the style by choosing from the Studs, Drops, Hoops and Halo settings on this page here: Diamond Earrings: Studs, Drops, Halos and Hoops after which you will pick the diamonds you want.
Or you can pick the diamonds first from Whiteflash's Diamond Pairs Search page.
Whiteflash's A CUT ABOVE® diamonds are cut to very strict and precise standards and are carefully vetted. You won't be disappointed with any diamonds you choose from this collection.
The standard for A CUT ABOVE® diamonds is so high that even the ones that just miss out qualifying to be part of the collection can easily be considered to be among the best cut diamonds in the world.
See more about Whiteflash's Premium Select diamonds here.
See more about Whiteflash's A CUT ABOVE® diamonds here
How To Choose Diamond Earrings and Studs at Brian Gavin Diamonds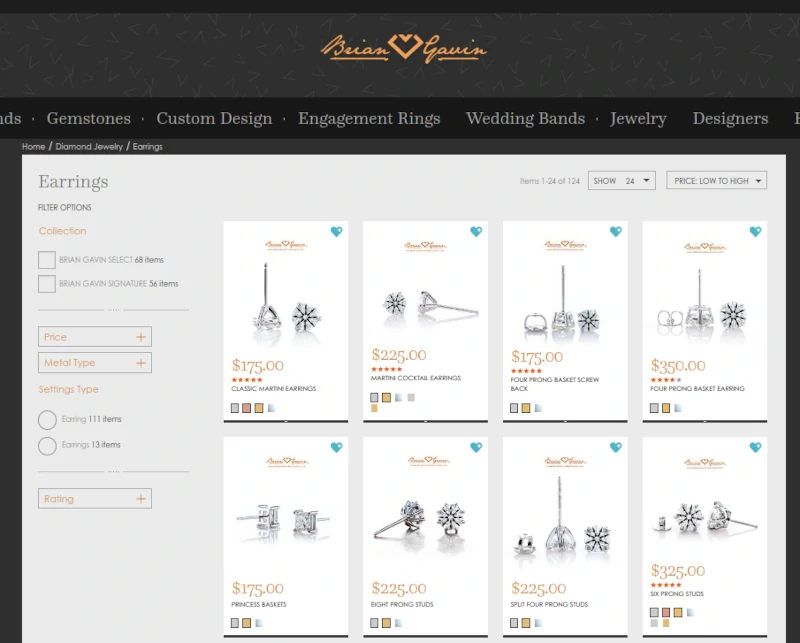 Brian Gavin Diamonds offers a couple of ways of choosing diamond earrings or diamond studs.
You can begin here by browsing matched pairs: Brian Gavin Diamonds Matched Pairs
Not every single pair of diamonds has an accompanying photo, but this should not be cause to skip past a pair of diamonds. Brian Gavin's Signature diamonds are all among the finest cut diamonds in the world.
Or you can start at the Earring builder where you choose the settings first: Brian Gavin Diamonds Earring Builder
Tips for Finding and Selecting Diamond Studs Earrings
If you want to buy a set of perfect diamond studs, whether for yourself or as a gift, there are a few ways you can make sure you end up with a pair of diamond stud earrings that truly sparkle.
Diamonds are a great gift. And stud earrings are a classic piece of jewelry. There are earrings to suit every taste and style.
Not only can studs be given to women, males and females are both known to enjoy wearing diamond studs.
Of course if you are not used to choosing diamonds you will find that there are a lot more choices you are faced with than you may have first imagined.
Classy, elegant, and valuable, diamond studs earrings are the perfect gift for birthdays, Christmas, or whatever occasion you can think of!
Diamond studs are a gorgeous gift and they can be truly eye-catching, especially if the diamonds are cut to maximize sparkle.
Before you click "Buy" here are a few tips which will help you when shopping for diamond studs.
Diamond Shape to Match Face Shape
Some diamond shapes complement different face shapes more than others.
If the wearer's face is thin, then round cut diamond studs are a great choice.
If the person has a broader face maybe consider princess cut diamond studs, as these tends to complement that look.
Just try to match up the right diamond for the right face to give her the right look. (though it's not actually a huge deal if you get this wrong!)
Consider matching the metal setting for the diamond that matches a person's skin tone.
White gold or platinum sets off a cool skin tone while yellow gold is often chosen for a person with a warm skin tone.
And remember to not settle for cheap settings – diamonds should be mounted quality settings.
Choosing the Right Setting
The snugger the diamond is against the ear, the better.
Many people find that crown-style settings push the diamond quite far out and away from the ear causing the diamond to dangle.
A three-prong and four-prong martini or basket settings look elegant and refined.
Friction back posts and earring backs
The most common type of earring backs are friction backs which slide easily on and off of straight posts which have a small notch located at the end of them which help to hold the earring nut in place. The upside to friction back earring posts and backs are that they are cost effective and easy to put on and take off. The downside is that the earring nuts can loosen up over time and lose the tension which keeps the earrings in place in the ears.
The structure of friction back posts and earring backs is clearly visible in this setting from Brian Gavin Diamonds: 3 prong Martini style diamond earring settings.
Screw back earring posts and nuts:
This four prong basket style earrings features screw back posts and nuts which increases the odds that the earrings will stay in your ears. Placing screw back earrings in your ears is as easy as sliding the threaded posts through your earring holes, and then carefully threading on the earring nuts until they set comfortably against your ear lobe. Screw back earrings might take a little longer to place in your ears; however they provide much more security than standard friction back earrings. By the way, there is a right and wrong way to "screw on" screw back earrings, the right way has already been explained, the wrong way is to push the nuts on over the threads, which will strip them.
Choosing the Right Diamond
Get the highest color grade and clarity your budget will allow. I say this because many people only focus on carat weight to the neglect of other attributes which can be as important, if not more important.
Clarity: SI1 should be the absolute minimum clarity. Beyond that and the inclusions become quite obvious. But it remains a personal choice. Some people can't abide any inclusions in their diamonds!
The most important of the 4 Cs for diamond earrings – is cut quality. Diamond studs are in view most of the time so sparkle is very important. It is worth investing your money in the best cut quality you can. For those other factors, consider aiming for a minimum color range of H-J and clarity grades from VS1 to Si1.
Just as with diamond clarity, deciding on a color grade for diamond earrings is a matter of personal preference. I've encountered all sorts of opinions on what the best color is. I think D diamonds are absolutely amazing, but some people are perfectly content with K color diamonds. In my experience, though the higher the color, clarity, and cut quality someone chooses first time around, the less likely they are to want to send their diamond back for an exchange.