The only way to be sure you have a diamond is to refer to its diamond grading report.
If you want to buy or have come into possession of a diamond you will soon find out that in order to be certain of the diamond's quality it will have to be graded by a laboratory that specializes in diamonds. Here are the diamond grading labs that you will come across when buying a diamond, whether online or in store.
---
GIA

The Gemological Institute of America
Established in 1931, The Gemological Institute of America (GIA) is widely recognized as the world's foremost authority on all things gem related. From diamonds, and colored stones to pearls GIA is the place to send your precious stone for grading. It is a public benefit, nonprofit institute.
GIA leads the way in gem and jewelry education.
Students from all over the world build successful careers in the gem and jewelry field by studying at GIA. You may come across the letters GG after a jeweler's name. This means they have completed GIA's Graduate Gemologist (GG) diploma. The course teaches gem grading and identification and is the industry's highest professional credential. With its Graduate Jeweler, Jewelry Design & Technology, and Applied Jewelry Professional™ programs, GIA offers training geared to every aspect of the industry.
---
AGS

The American Gem Society
The American Gem Society (AGS) was founded in 1934. The goal of this initially small group of jewelers was to create an organization which would help protect the jewelry-buying public from fraud and false advertising. Approximately 3,000 jewelers, retailers, suppliers, individual titleholders and affiliates have joined the American Gem Society and have dedicated themselves to consumer protection, ethical business practices, and development and maintenance of superior gemological skills and knowledge.
Only one in twenty jewelers have met the exacting requirements necessary for membership. To join the AGS, every member must go through a peer-reviewed application process and complete an annual recertification exam. This process ensures that every AGS member you meet is at the top of their game, and more importantly, each one has pledged to protect their customers by providing expert gemological knowledge of the products they sell, and adhering to strict standards of ethics.
---
IGI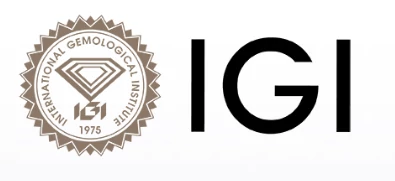 The International Gemological Institute
igi.org
The International Gemological Institute (IGI) was established in 1975. Many innovations in the diamond industry can be attributed to the IGI. Here are some examples: When IGI was founded IGI's School of Gemology was the first to offer classes covering rough diamonds. IGI's Laserscribe System Mark patent introduced laser inscription to the diamonds industry. IGI was the first laboratory to issue Jewelry Identification Reports. IGI was the only laboratory in the world providing repair and re-cut of diamonds. IGI was the first lab to seal diamonds for protection purpose. IGI developed the first comprehensive diamond cut grading chart during its early years. Before the turn of the century IGI had also added the following claims to fame: it was the first to permanently inscribe diamond tables using ion beam technology. IGI became fully equipped to identify any kind of synthetic diamond, IGI also developed UV-VIS-NIR spectrometry to identify treated diamonds. IGI developed its own photoluminescence spectrometer to identify HPHT-processed diamonds. IGI was the first laboratory to go worldwide under one management (today 18 offices). After the millennium IGI developed an innovative system for the grading of small diamonds. IGI was first to issue co-branded grading reports in cooperation with renowned jewelry brands. IGI introduced hands-on courses to factories for the purpose of improving manufacturing. IGI introduced supplemental courses to sales people and enthusiasts to improve their professional knowledge. IGI added the Hearts and Arrows Diamond Report to their lineup. In 2005 IGI was the first to recognize that laboratory grown diamonds would need grading reports and consequently became the primary issuer of lab grown diamond reports.
---
EGL USA

EGL USA Gemological Laboratory
EGL USA's has its main office in the heart of New York's diamond district where it has operated since 1977. The lab became independently owned and operated in 1986, and grew to include a west coast office in Los Angeles.
EGL USA has a number of "firsts" they can lay claim to including:
The first lab to grade diamonds less than one carat in weight.
Using a photographic process to record identifying marks on diamonds.
Providing a 72-hour service for issuing diamond reports.
Issuing mini reports, containing complete full-size report data.
Introducing the SI3 grade to the diamond standard.
Utilizing x-ray digital imaging for pearl grading and identification.
Detecting and identifying high pressure high temperature treated colored diamonds.
Creating a dedicated consumer hotline.
Offering state-of-the-art cold laser inscription.
Revealing that Type IaB HPHT-treated diamonds were made colorless and available in the marketplace.
Recording the HPHT treatment of diamond on grading reports.
Delivering full disclosure on lab-grown diamonds, via specialized reports and laser inscriptions on the stones.
Detecting and announcing the presence of chemical vapor deposition (CVD) lab-grown diamonds in the marketplace.
Developing a system to identify mounted lab-grown melee diamonds.
Identifying and establishing grading policies for a new generation of surface treated diamonds, with colored coatings.
---
GCAL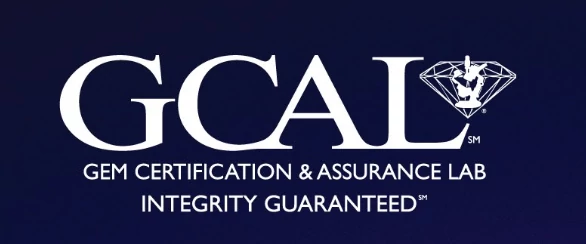 Gem Certification & Assurance Lab
GCAL, founded in 2001 by Donald A. Palmieri and his wife, Pamela Case Palmieri, offers a Guaranteed Diamond Grading Certificate (Industry Exclusive). GCAL introduced the first co-branded certificates for specialty diamond cuts and retail brands. GCAL develops new software and hardware solutions for the diamond industry.
In 2006, GCAL became the only laboratory in the world to offer a 4C's Consumer Guarantee on all diamond grading certificates issued. Every diamond certificate is also accompanied by their proprietary Gemprint. This is the optical fingerprint of a diamond, for registration and recovery, and for positive identification. In 2012, GCAL became the World's only ISO 17025 Accredited Forensic Laboratory in the field of Diamond, Gemstone, and Jewelry testing. That same year, GCAL also became a Certified Member of the Responsible Jewellery Council, and became the main laboratory for the Jewelers Vigilance Committee when gem identification/valuation disputes arise between consumers and jewelry sellers. GCAL's grading reports are often used in arbitration, mediation, civil as well as criminal proceedings. Legal courts throughout the world including the U.S.A, Canada, Singapore, the Bahamas, Israel, and China have called upon GCAL to provide expert witness testimony in cases involving diamonds.
Header photo credit: Sabrinna Ringquist