Here's a list of online vendors of diamond jewelry provide lab created diamond jewelry. I am in contact with all of these companies and can vouch for them.
Vendor
Go Directly to
Stand-out
Feature

🔗 All Lab Diamonds

🔎 Editor's Choice Custom Search
✅ Excellent selection
Uniform imagery in 360°




🔗 All Lab Diamonds

🔎 Editor's Choice Custom Search
✅ Gemologists on staff




🔗 Lab Diamonds Search
✅ Certified Carbon Neutral




🔗 Lab Diamonds Search
✅ Gemologists on staff




🔗 Lab Diamonds Search
✅ Custom and Unusual Cuts Available




🔗 Lab Diamonds Search

🔗 Rare Finds Collection
✅ Great settings




🔗 LIGHTBOX Jewelry
✅ Fancy color lab diamonds

Vendor
Go Directly to
Stand-out
Feature
Online Vendors of Lab Created Diamonds and Jewelry
Lab created diamonds are now a viable alternative to mined diamonds as the technology is now far enough advanced to produce jewelry quality stones. Lab diamonds have been around for a while but have mostly been produced for use in industrial applications. Producing colorless and clear (inclusion free or near free) has been the aim for a long time and while these qualities were occasionally produced, the cost of production has only now come down far enough to be priced attractively when compared to mined diamonds. While mined diamonds are still in high demand, lab diamonds are growing in popularity and many people who hadn't dreamed of owning a diamond can now do so. There are some online vendors of diamond jewelry that were quick to recognize the demand for lab created diamonds and responded accordingly. James Allen, Ritani, The Art of Jewels are in this category. Other companies have been set up exclusively to provide lab created diamond jewelry. Clean Origin and LGD are a few examples of this. Blue Nile has recently dipped their toe into the lab created diamond ocean, though they haven't gone so far as to offer certified lab created goods.
Stand out Features at James Allen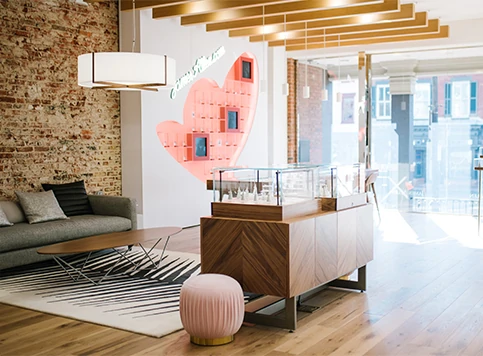 Consistent photography
James Allen is many people's first stop when searching for lab diamonds. The unique feature that James Allen offers which to date no one has been able to replicate is the implementation of uniform conditions for capturing imagery for each and every diamond that they list.
360° photos for all diamonds
James Allen will not list a diamond that doesn't have an accompanying image. All images are in high definition and can be rotated. The super zoom function even lets you see closer.
Huge variety
James Allen lists a huge selection of loose diamonds you can add to your jewelry, or buy as a loose stone, if desired. If you are wondering how in the world it's possible for a retailer to hold that much stock, it's because like most diamond jewelers they do not hold the stock themselves.
The diamonds are held by manufacturers, though to compare them to a drop shipper is not entirely accurate. James Allen has one of their people photograph each diamond they list and therefore are able to satisfy themselves that the item is up to standard and that they are able to describe the item accurately.
Live chat available 24 hours a day
In 2020 James Allen added 'round the clock live chat functionality to their site. Their sales assistants are just a few seconds away from answering your questions to help you with your purchase. They can give you ideas for settings, or provide a few diamonds for you to consider.
Ring designer
If you don't know what to call the ring setting you have in mind fear not. James Allen has a ring customizer you can use to bring to life the ring design you want.
Matched pairs
Looking for diamond studs? James Allen has a great feature which shows you paired up diamonds which can work for studs or earrings. See my article on diamond studs here: Where To Buy Quality Diamond Earrings and Studs Online where I explain how to find a pair of diamonds that are perfect just for you when shopping online including at James Allen. Written with natural diamonds in mind, but James Allen offers matched search for lab diamonds as well.
Free Shipping Worldwide
James Allen ships worldwide to the countries listed here: Free Shipping Worldwide
Free Lifetime Upgrades
Any loose diamond you purchase from James Allen can be exchanged at 100% credit for any replacement diamond as long as the replacement diamonds is 2X or greater in value. The diamond which is being upgraded has to be in its original condition and must be accompanied by the original grading report (certificate) it came with.
Virtual Ring Try On
James Allen offers a virtual ring try on https://www.jamesallen.com/virtual-ring-try-on/
State of the art website
James Allen maintains an reliable and well designed website which is more than easy to navigate.
Flexible Payment Options
James Allen accepts all major credit cards, including Visa, Mastercard, American Express, and Discover. Simply
enter your credit card information at checkout. Once payment is approved, your order will be on its way.
PayPal
Use your PayPal account to pay for your purchase quickly and on your own time. Payments are secure,
free of processing fees, and you can even pay using your smartphone.
Wire Transfer
When you pay via wire transfer you'll receive a 1.5% discount on your item's listed price. Instructions are
available after completing checkout, and your items can be shipped once your transfer confirmation is completed.
Paying by wire transfer may be necessary for international orders and/or orders above $20,000.
Splitit
When you use SplitIt, you can break up your payments into more manageable amounts. By paying in multiple payments you keep your money in your account and avoid accumulating interest payments – all while wearing
your dream bling.
Stand out Features at Ritani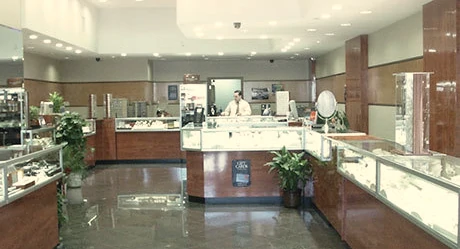 Professional Jewelers
Ritani was founded by a family of jewelers that have been in the jewelry business for many years. They understand the importance of hiring knowledgeable staff. Their trained gemologists will walk you trough everything you need to know to make a good choice.
Made to Order
Ritani's pieces are made to order by their artisans in New York.
Transparent Diamond Pricing
Ritani's Transparent Diamond Pricing feature breaks down the costs that go into acquiring their diamonds so you know exactly what you are paying for. The Transparent Diamond Pricing feature includes Ritani's cost to purchase the diamond, fulfillment costs, and their markup.
Diamonds Inspected
Each of Ritani's diamonds are hand inspected by a real live person. Their diamonds are certified by the Gemological Institute of America and the American Gem Society. Each of their diamonds come with a certificate of authenticity.
Free Preview
Ritani is one of the only online jewelers to offer Free In-Store Preview, a service that allows you to preview your engagement ring for free in stores at no cost to you. Learn More
Complimentary Ring Cleaning
Ritani offers complimentary ring cleanings for life with your engagement ring purchase. They recommend getting your ring cleaned at least twice a year to maintain its sparkle.
Pick Up at One of Hundreds of Local Jewelers
Ritani has partnered with hundreds of local jewelers. If you choose to purchase a ring from them online, you have the option to pick it up in stores if you do not want it delivered to your home.
Diamond Upgrade Program
Their diamond upgrade program allows you to update to a Ritani diamond that is at least 2.5x greater in value than your original diamond. You'll receive a 100% credit on your trade-in. This credit will go towards a new Ritani diamond. You are eligible to receive a 100% credit on your diamond trade in if:
You purchased your diamond from Ritani after October 11, 2012; Your diamond is in its original condition according to its grading report. Damage to the diamond may disqualify it from our upgrade program. Your original diamond grading report can be returned to Ritani and is in reusable condition. Fees may apply for any damaged or missing reports.
You can reuse your original setting for your new diamond if it was purchased from Ritani and is in reusable condition. If the new diamond does not fit in your setting, we will return it to you or modify it if possible for an additional cost.
If Ritani did not originally set your diamond, you'll have to exchange your diamond without the setting.
If you wish to trade in your Ritani setting, any possible credit exchange will be determined on a case by case basis.
The diamond upgrade program is only available for purchases shipped within the US. At this time, diamond upgrades are only available for earth grown natural diamonds. Lab diamonds are not eligible for diamond upgrade services. Diamond upgrades are not eligible for promotions.
Please find double check the up to date terms and conditions from Ritani.
Flexible Payment Options
Ritani offers multiple ways to make your purchase.
All major debit/credit cards
Ritani accepts Visa, Mastercard, American Express, Discover, and PayPal.

You can split your order total on up to 3 credit cards at checkout.
Bankwire
You can choose a bank wire payment option at checkout and receive a 1.5% discount.
Financing

Get 12-month flexible, interest-free financing when you apply for the Synchrony Credit Card. Instant credit and extended financing are also available. Financing is available to US customers only.
Huge selection of IGI, GCAL and GIA graded lab diamonds
Stand out Features at The Art of Jewels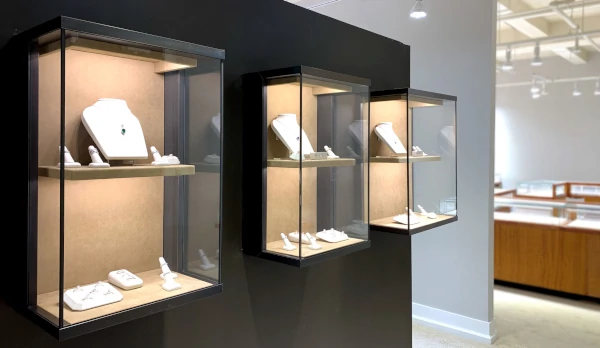 Excellent Selection at Great Prices
The Art of Jewels has a good selection of lab created diamonds and has very competitive pricing.
Free Diamond Grading Evaluation
If you have ever wondered how to make heads or tails of a diamond's grading report The Art of Jewels offers a Free Diamond Grading Report Evaluation. Just fill in the details of any diamond you've come across online and get an explanation on what it all means.
3D Customization Tool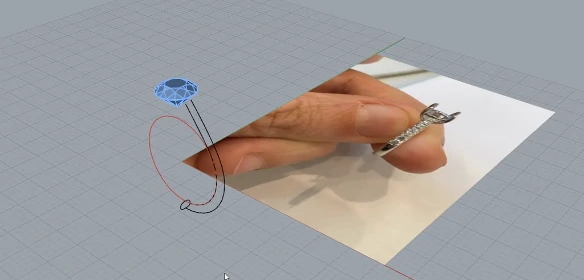 Got an idea for your ring? On the 3D Customization Tool page you can upload a sketch, or image, or link to a similar one you've seen elsewhere. The Art of Jewels will create four different viewpoints of the design FREE OF CHARGE. Once the design is approved, they will price it at a very competitive price and send you a purchase link and your new ring will be ready within 10 business days.
Live Chat
The Art of Jewels live chat is online much of the time and very quick to respond.
Flexible Payment Options
The Art of Jewels offers a variety of payment methods including Visa, Master Card, American Express, Discover Card, Paypal, debit card, wire transfer, and even Cryptocurrency.
Stand out Features at VRAI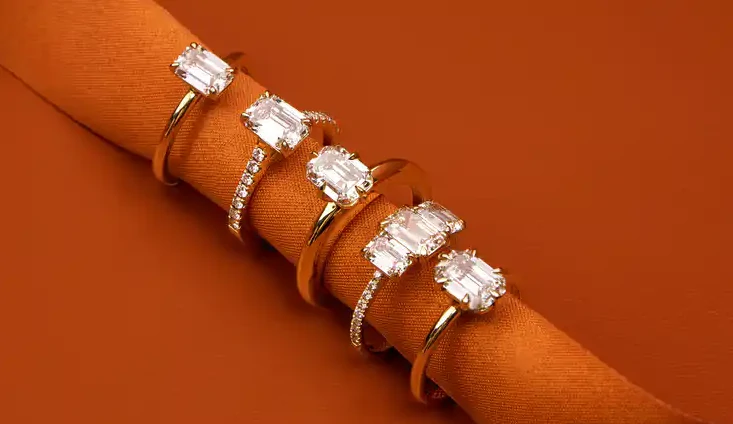 VRAI is the jewelry distribution branch of its parent company Diamond Foundry. They have a strong focus on environmental issues.
They are quick to respond by email or chat, so this is the recommended method of contact.
Buyers report that it takes about 14 days from the time you order your ring to the time you receive it.
VRAI informs us that their mission is to showcase the beauty and possibilities of sustainably created diamonds.
VRAI created diamonds mean: No mining. And being 100% Certified Carbon Neutral it also means no carbon emissions.
The jewelry VRAI offers is available in thousands of unique variants and made to order to your personal choice. They only use solid gold, never gold plating or vermeil. The gold is sourced from recycling.
VRAI proudly to supports global causes and social organizations that move us all forward. Read more about the initiatives VRAI and Diamond Foundry have supported.
VRAI LLC
Founded in Los Angeles in 2014 to create a modern, digital-first jewelry business, VRAI is today growing around the world as a business unit of Diamond Foundry Inc.
We cut and polish diamond sustainably grown in America by Diamond Foundry; and offer them set in timeless fine jewelry developed in-house or as part of collaborations.
We operate a rapidly growing number of showrooms in the United States and China, and have operations in the US, UK, EU, Dubai, and Canada.