In January 2022 Clean Origin launched their new line of Ideal Love doubly certified lab diamonds.
The diamonds are graded by both IGI and GemEx. You read that right: Every single Ideal Love diamond is independently graded and certified by not one but two of the world's largest and most respected gemological laboratories. This ensures the accuracy of Clean Origin's "Triple Very High" scores in all three light performance ratings and quality, with its certificate from the IGI, International Gemological Laboratory, and with its unique Light Performance Certificate from GemEx® Systems.
GemEx® Diamond Light Performance® Certificates
GemEx® is the global leader in diamond brilliance, fire and sparkle measurement. This certification gives you a measurable indications as to just how well your Ideal Love Lab-Created diamond performs.
You can view an interactive version of every Ideal Love diamond's GemEx® certificate (linked to on each listing).
How To Get The Best Use Of the GemEx® Live Reports
If you have made yourself a shortlist of diamonds but are struggling to make a final choice you can load both GemEx® reports in separate browser tabs. Flipping back and forth between tabs will quickly show you which one performs better. This will make it so much easier to make an objective side-by-side comparison. GemEx®'s reports show you the level of measured fire, sparkle and brilliance of each Ideal Love diamond.
Let's take two very similar diamonds:
| Image | Carat | Color | Clarity | Price |
| --- | --- | --- | --- | --- |
| | 1.06 | G | VS1 | $1,847 |
| | 1.05 | G | VVS2 | $1,871 |
From the images it seems like they are almost identical. The weight is nearly the same, and the price difference is negligible. Should we just go for the more expensive diamond because we assume it must be better "somehow"? Or should we just go for the less expensive one as they're not too different from each other?
If we load up the two GemEx® Live Reports we can see that one of the stones has better sparkle than the other.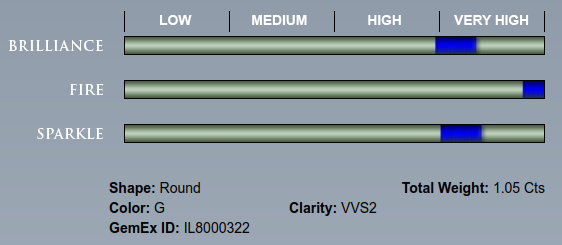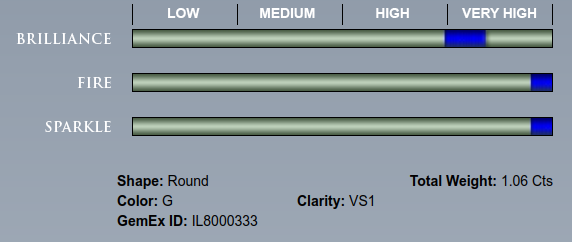 For me the choice is easy.
The 1.06 G VS1 diamond is a clear winner, though they both have high scores in brilliance, fire and sparkle.
IGI Certification
A world leader in gemstone assessment, diamond grading and consumer confidence, the International Gemological Institute is one of the largest gemological organizations and certifies that your Ideal Love diamond achieves a level of "excellence" in symmetry and proportion. As Clean Origin have arranged to co-brand Ideal Love diamonds you don't have to wonder if your diamond is available elsewhere and may be swiped via some other merchant calling in the diamond. These diamonds are exclusive to Clean Origin.
If you do need a hand making your final decision do not hesitate to get in touch with me.
You will save yourself a lot of time and potentially money by getting a diamond you will love without having to bother with returns and exchanges. My service is free (works kind of like Amazon affiliates) as the merchant has an advertising budget which covers affiliates such as myself.
Happy diamond hunting!