I recently spoke by phone with my contact at Leibish & Co., specialists in fancy color diamonds.
I wanted to know if they could help me explain more to my audience about fancy color diamonds, or more specifically about yellow diamonds. Yellow and pink diamonds are the most sought after colors, so I figured I would include a little more information about those colors so I can help my readers make good decisions when shopping for fancy color diamonds.
Yellow diamonds are undeniably the most vibrant among fancy color diamonds. Yellow catches the eye, which is the exact definition of attractiveness.
Between yellow and pink, yellow is a lot easier to find in a decent size. Pink is extremely hard to find, and will rarely be very big. This is of course reflected in the price.
But yellow, being somewhat less rare, gives us a little room to shop around and try to find something that suits us perfectly, in regards to size, hue, vibrancy, shade, quality of cut.
The Best Cuts for Yellow Diamonds
There is an important difference between a yellow diamond and a colorless stone. Colored stones have to be cut in a different manner to colorless diamonds.
When there is a lack of color in a diamond, which is the case for colorless stones, it is desired to increase the stone's brilliance as much as possible. This is achieved by cutting the stone in such a way that the light exits the stone as quickly as possible.
Yellow diamonds are all about exposing the color from within. That is why the diamond is cut in a way that enables the stone to preserve the light as long as possible in order to strengthen the color before it is reflected out.
As the shape of a diamond affects how well the light reflects, you will generally see certain shapes more with yellow diamonds than you would with a colorless stone. For example, the most common shape for a colorless diamond is the round brilliant, because it displays its brilliance in the most ideal way. When it comes to a yellow diamond, it is easier for the diamond polisher to enable the color to show more from a cushion, radiant, or pear shaped stone.
Yellow Diamond Color Intensity Levels and Color Combinations
Colorless diamonds and yellow diamonds are both assessed according to the 4Cs (color, clarity, cut, and carat), but while these four characteristics are generally considered of equal importance in regards to colorless stones, color becomes the number one priority when it comes to fancy color diamond. So much so that the color itself is split into two categories: main color and color intensity. The latter refers to how intensely the color can be seen.
Colored diamonds are graded according to nine different intensity levels. Every color has each one of the nine grades.
For example, the color intensity grades for yellow diamonds include:
Light (X)
Light (Y)
Light (Z)
Fancy Light
Fancy
Fancy Intense
Fancy Vivid
Fancy Deep
Fancy Dark
The first levels of fancy color are actually at the very end of the D-Z color grades used by the Gemological Institute of America to grade color. You could say they are "near fancy color" stones (usually X-Y-Z, though may also include slightly higher color grades). they may also be referred to as cape diamonds. They have too much color to be considered good colorless diamonds and too little color to be acknowledged as a fancy.

A yellow diamond can contain a pure yellow hue, but more often than not, it consists of secondary colors. These can be: orange yellow, orangy yellow, brown yellow, brownish yellow, brownish orangy yellow, brown greenish yellow, brownish greenish yellow, greenish yellow, green yellow, gray greenish yellow, and grayish greenish yellow. A straight yellow is considered more valuable than a stone that has more than one color, but the beauty of a colored diamond can only be determined by you.
The diamonds pictured above mostly have a component of yellow, though as you can see the amount of yellow varies as does its intensity and the hue may be combined with a different hue.
Typical Settings for Yellow Diamonds
Settings are a bit trickier for yellow diamonds than they are for colorless diamonds because of the difference in cut. Settings made for colorless diamonds can be mass-produced and used without modification to set the stone. Settings for fancy yellow diamonds should always be done by a jeweler that understands fancy color diamonds and can therefore provide customization suitable for the specific stone. The setting should be built around the stone so that it is mounted properly to help show off the color. Since fancy color diamonds, yellow diamonds included of course, are becoming more and more popular, manufacturers are developing more price effective ways of displaying the stone efficiently and effectively without it becoming insanely expensive.
Yellow diamonds look great when set as a solitaire stone or when paired with diamonds of contrasting colors. Jewelers and ring setters will also also recommend various metals depending on the tone and shape of the stone.
Ideas for how to set a yellow diamond ring
I know that for the most part pre-designed diamond rings are not everyone's first stop, but hear me out.
Yellow diamonds are best displayed in certain types of settings. If you start designing your own you may end up with something that really doesn't complement the stone.
Seriously consider looking at pre-designed rings made for yellow diamonds so you get the right type of setting designed specifically for yellow diamonds.
With Side Stones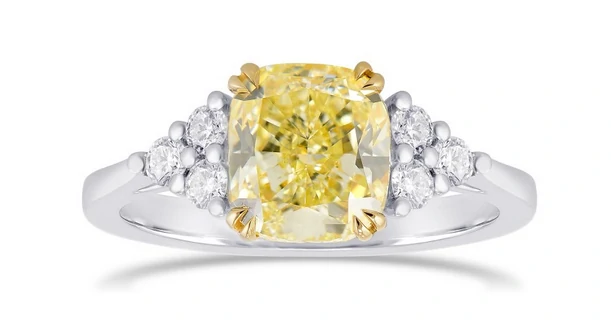 A fancy light yellow diamond looks lovely set in a ring with colorless side stones. The center GIA certified cushion shape diamond, 3.07cts, is emphasized and allowed to glow by being set with a prong setting. Flanked 6 F+ Brilliant cut diamonds provides wonderful contrast to the yellow glow of the center stone. The colorless stones are styled in a triangle side stones design and also set in a prong setting benefiting from maximum light. The ring is made of platinum and 18K Yellow gold. For more information about this item please see
https://www.leibish.com/rings-jewelry/fancy-light-yellow-cushion-side-stone-diamond-ring-28325 is the link to the above ring.
Rose Gold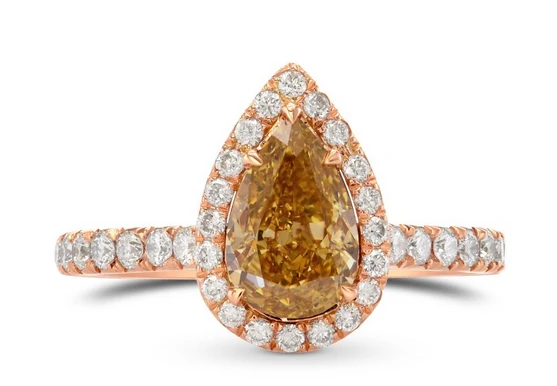 Another option, if the diamond is more orangish or brownish yellow is to set it in rose gold. A pave halo of small diamonds enhances the appearance of the center stone and of course enhances the sparkle from the many more diamonds being included in the ring. Essentially it is a classic diamond halo ring setting. This particular one features a 1.10 carat, Fancy Brown Yellow pear diamond as its center stone. Mounted in all rose gold, the side diamonds are colorless round brilliants, which make up both the halo and half-way along the shank. https://www.leibish.com/rings-jewelry/fancy-brown-yellow-pear-diamond-ring-27705 is the link to this ring.
This article was originally published in Jan 2019. Updated March 2023.