My Recommendations on The Best Places To Buy Lab Created Diamonds Online
---
Lab Created Diamonds at James Allen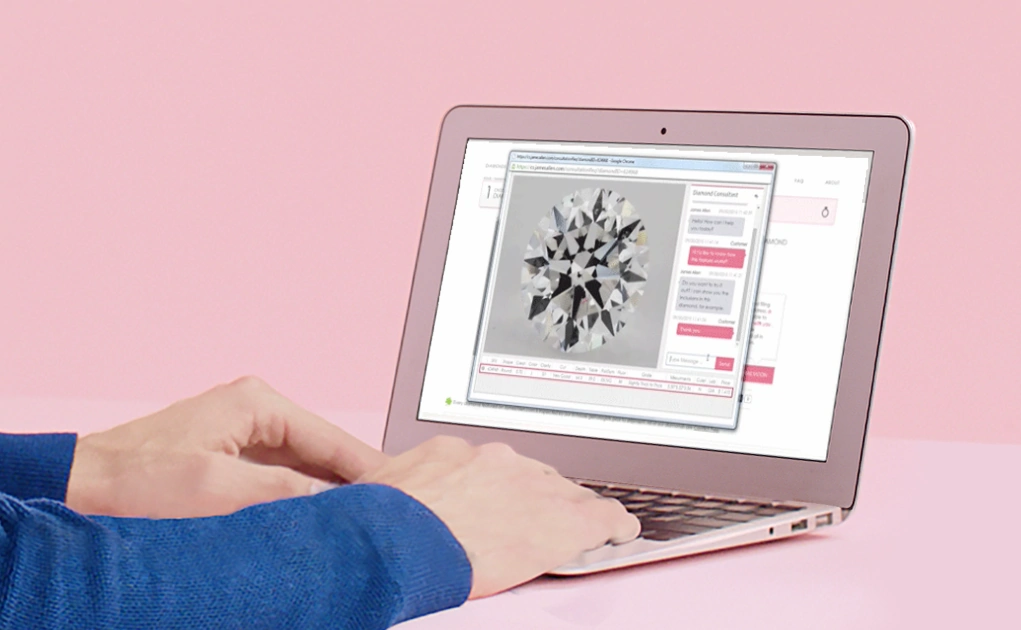 One of the busiest diamond retailers today is James Allen. Founded in 2006 by a team of four this online retailer has become a major player in the diamond universe. James Allen's meticulous attention to detail coupled with a high priority on customer experience and service is why, at the time of writing, more than 150,000 happy couples are now owners of James Allen diamond rings. While James Allen has set the pace for the way diamonds should be sold online there are few competitors that can replicate James Allen's success. This is no doubt due to the fact that the founders' focus from the beginning was on customer experience. Read more about the amazing people who started James Allen here: James Allen Review. What immediately hooks visitors to the site is the user interface, which is highly intuitive. It's just an absolute breeze to use. Refining your search couldn't be easier. You can specify color, clarity, cut and carat, and sort the results as you please. Every section has helpful information to help you understand what everything means. It makes the otherwise daunting process of searching for a diamond so much easier.
Features
A selection of thousands of lab created diamonds.
As grown diamonds with no post growth treatment
A choice of hundreds of customizable ring styles.
Efficient and speedy diamond setting.
Free shipping worldwide.
IGI certified diamonds.
Lab diamonds with no post growth treatment
Real-time diamond inspection service. Their experts share their screen with you.
A solid 100% money-back guarantee.
Hassle-free returns.
Lifetime warranty.
24/7 Live Customer support
---
---
---

Description: Private company. The online incarnation of one of the largest diamond and jewelry emporiums in Northern California with offices in San Francisco.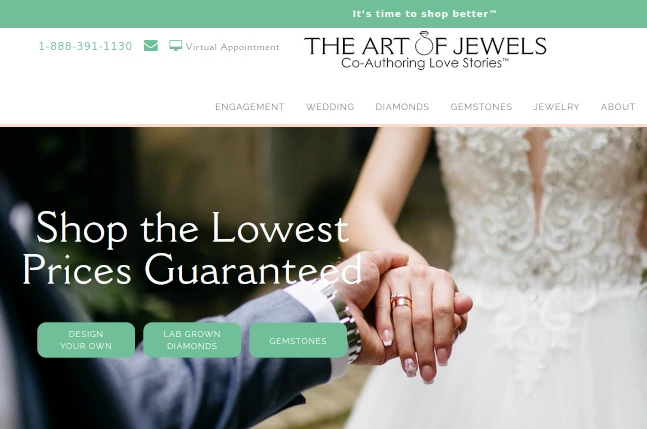 The Art of Jewels are jewelry designers and manufacturers that sell directly to the public. They are in control of the process from start to finish. From sourcing the stones to creating the ring design to the final product, it's all done by their team. Each ring is custom made using the exact measurements and shape of the center diamond and your requested ring size. This uniquely sets them apart from the vast majority of jewelers.
Features
A choice of hundreds of customizable ring styles.
Efficient and speedy diamond setting.
Free shipping
Fast turn around (10 day goal)
15 day minimum return period
Customer focused
Live chat
Quality checks at every step of the process.
Huge selection of IGI and GIA graded lab diamonds
Shipping to USA, Canada, Australia. See note regarding international shipping*
*Note: The Art of Jewels will ship internationally if you use my diamond concierge service. This is to improve the chances of making an informed choice, reducing the need for too much back and forth with returns and exchanges.
---
Lab Created Diamonds at Ritani
↗
Description: Fine jewelry company specializing in engagement rings and bridal jewelry.
Ritani was founded in 1999 by a family of jewelers. Initially a wholesale jewelry brand, Ritani launched its e-commerce website in October 2012. Their aim was to make it simpler to purchase high quality, handcrafted jewelry. Ritani's pieces are one-of-a-kind and made to order in New York by expert artisans.
Ritani knows diamonds. And they share their extensive knowledge of jewelry with you so you can find the right engagement ring, wedding band, or whatever piece that you're looking for.
Features
30 day returns
Diamond price matching
Pricing transparency
Free insured shipping
Custom engagement rings
Diamond buyback program
Gemologists on staff
---
Description: Zero carbon footprint lab created diamonds and fine jewelry.
VRAI is the jewelry retail brand from one of the big names in the world of created diamonds, Diamond Foundry. All of Diamond Foundry diamonds are grown sustainably in America's beautiful Pacific West. Each diamond sold by VRAI comes with a full, true producer warranty directly from Diamond Foundry. This certificate, backed by a lifetime warranty, guarantees the grade of your diamond. This is a unique offering which is not possible to obtain elsewhere.
Features
Certified Carbon Neutral® diamond production
Reclaimed materials.
Responsive customer service.
Quality handcrafted rings
30 day return period
---