Here is a super diamond. Its ideal cut and VVS2 clarity makes it our
Catch of the day!
Diamond ID: 7395
Shape: Round
Color: I
Clarity: VVS2
Cut: Ideal Cut
Weight: 1.04 ct
Symmetry: Excellent
Measurements: 6.44-6.47*4.00 mm
Depth: 62%
Table Diameter: 57%
Crown Height: 15%
Pavilion Depth: 43%
Issuer: EGL
Description: "EXCELLENT IDEAL CUT" – The quality of the cut of this diamond achieves Excellence in symmetry and proportions, thus obtatining the optimal dispersion of light and brilliance.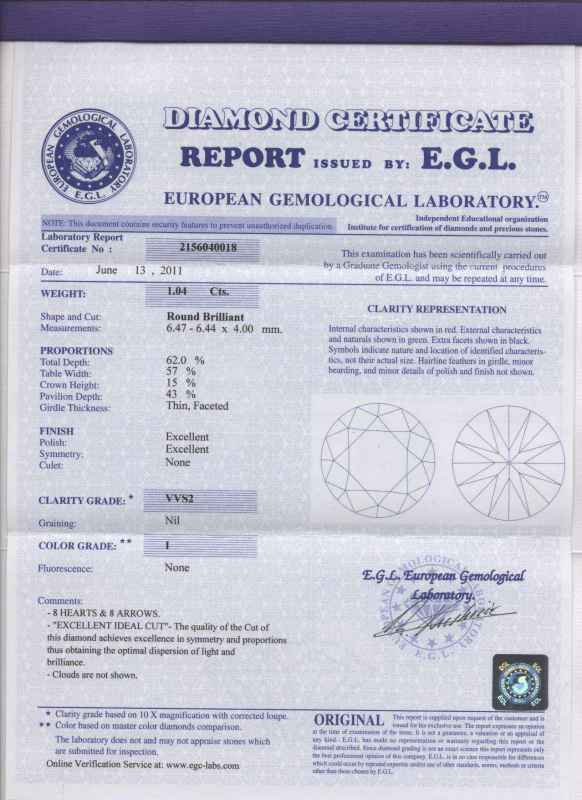 Diamonds-USA does not have photos to match the exact diamond listed so we base our judgement on the description on the certificate.
The description on the certificate includes the description "Excellent Ideal Cut" and this would indicate that the diamond is much, much nicer than the sample picture.
The certificate describes the diamond's cut as having 8 hearts and 8 arrows.
As EGL has a different set of masterstones than GIA has which are used to compare diamonds to when they are grading diamonds, EGL-graded diamonds with a color grade of "I" could sometimes be seen as a "J" grade if they were to be graded by GIA. Having said that this is still a fantastic deal as it is over 1 ct and VVS2 with an Ideal Cut! An absolute steal at $4,992!